News
Details

Hits: 3145
Well done to Toby and Gareth, sailing their Hornet for coming sixth at the Hoo Freezer in very light and difficult conditions.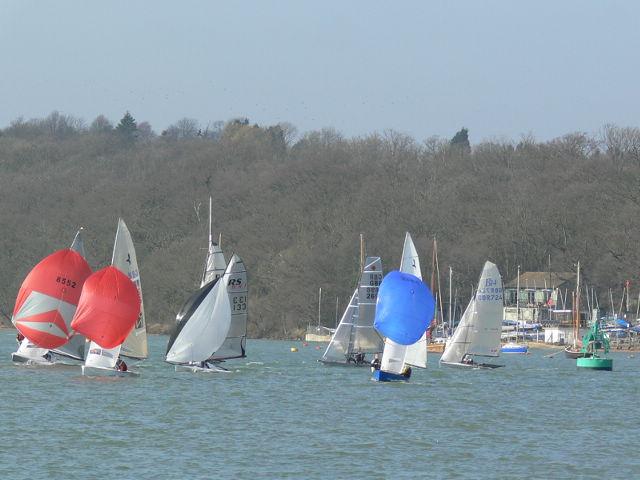 Despite the poor wind forecast there was still a good turnout for the Hoo Freezer. Amongst the fleet for the practice race on Saturday were two Hornets. 2132 sailed by Strangler crewed for this event by John Shelton and newcomers to the fleet for 2012 Toby Barsley-Dale and Gareth Russell sailing 2176.
Having passed Toby and Gareth early on, Strangler and John went on to establish a sizeable lead. Despite their best efforts to close the gap, Toby and Gareth closed the gap never really managed to get back on terms to challenge in the light conditions.
Perhaps, given the even lighter forecast for Sunday, finding an all you can eat Chinese restaurant for the Saturday evening may have been a mistake. But a good night was had in company with some of the Osprey fleet.
Sunday as feared was almost windless, with just the occasional puffs filtering through. Despite this and the threat of the tide starting to run halfway through the race, the Race Officer bravely set a course and sent the fleet afloat. The Hornet ranks were reinforced by Steve Cooke and Alistair McHardy in 2080. This welcome addition also meant the class could field an entry in the class team trophy.
With just enough breeze to make over the tide the fleets were dispatched with the fast fleet, including the Hornets, starting second. Toby and Gareth were caught and pushed over the line by a very late and cheeky port tack entry from another boat which took them both over and, with the round the ends rule in force and having to return against the tide, the leaders of the fleet (including Strangler and John) were a long way ahead by the time Toby and Gareth managed to restart.
With only a few boats round the windward mark, the breeze died (for the first of many occasions during the day) and a large raft formed allowing both Steve/Alistair and Toby/Gareth to sneak through on the mark, passing many of the fast fleet in the process and set off (slowly) in pursuit of the leaders.
Over the following laps, a complex game of snakes and ladders unfolded always slightly favouring the boats behind as you could see people in front find the holes and then take avoiding action. Slowly but surely Toby and Gareth caught Strangler and John, eventually finding a passing lane on the last beat. Steve and Alistair were also quietly coming through the fleet and passing many faster boats on the water.
With the final results calculated we were delighted to find all three boats were in the top 10. Steve and Alistair finishing 9th, Strangler and John 8th and Toby and Gareth 6th. This was enough to edge out the B14's for the class team trophy... maybe they were two focused on the chips and tea!
Details

Hits: 2658
Report by Andy Anderson with spelling by Pat Overs ;-)
As Paxton Lakes Sailors took to the water on a sunny Sunday morning for the first races of the 2012 series, two of the regulars were missing!
It was also the first races of the Solo Eastern Region Series being held as a joint event with the Thames Valley Region. So as top club sailors from both regions took to the water, the Paxton Lakes 'Solo Duo' Andy and Pat were there to make their mark!
The race officer was keen to get going on time as the light winds were forecast to drop off during the day and we had 3 races to fit in.
Race 1. With a pin end bias that popped up in the last minute of the start sequence, boats at that end of the line got away and tacked well ahead of the remaining fleet. Andy was about the middle of the line and Pat closer to the committee boat end where there looked to be more wind. About half way up the first beat, the wind died for a period then reappeared at 90 degrees to the original direction. Andy was among the first boats to get this wind and took advantage by pulling up some places before the first mark, rounding about a third of the way down of the fleet. Pat was a few places behind. There were a few places exchanged over the remaining lap but it was typical light wind sailing, where not a lot happened but concentration levels were high to sense any changes in the wind.
On lap2 the wind dropped off for what felt like a week! It then filled in from behind, pushing most of the boats into a big bunch. A photo that Jen took at this point showed Pat and Andy in a group of 5 boats level pegging! Then the wind gods shone on Andy as he picked up a light draught and pulled clear and rounded the next mark as the others were drifting.
The course was shortened soon after this and Andy finished 8th with Pat 22nd among a large group of boats. This was a race where luck played a big part and the Paxton boats were not that far apart.
Race 2. The wind was very light by this point and a very short course was set. All boats get away cleanly with Andy in close tow of the lead boats and Pat not far behind. This proved to be a very frustrating race with the wind much reduced and the boats just 'ghosting' along. It was also very variable as I could see boats going in the same direction but the sails set for a different point of sailing.
Have to say it was a blessing when it finished as it was like double slow motion on the water. Andy got 8th again and Pat clearly wasn't 'the wind gods' friend at 15th. It was however a very experienced fleet and both our sailors had respectable results.
Race3 was cancelled as the wind had dropped off completely.
The final results put Andy punching well above his weight in 7th place and Pat in 14th. The sun shone, the surroundings were butiful, but more wind next time please!
Details

Hits: 2738
On Sunday 25th March there is a first for Little Paxton. Our first Sport Relief Mile. Paxton Lakes Sailing Club have started a team to run and raise funds for this wonderful charity.
So join in and enter the Sport Relief Mile or Sponsor our team here http://my.sportrelief.com/sponsor/paxtonlakessc.
There are three different lengths of run you can enter and if you dont feel like running come along and support us. The run starts at the Village Hall in Little Paxton and you will be able to spot us as we will all be wearing at least one item of sailing kit with starts between 10:30 and 11:00. So that you dont miss out on Sunday sailing the racing programme will be compressed so that all 3 races will be run in the afternoon following an early lunch. The First race will start at 12:30.
Details

Hits: 2833

It is that time of year again when a member of Paxton Lake sailing club can try and win a boat for the club.
For those of you that do not know about this it is a powerboat challenge for 8 – 16yr olds. It is NOT a power boat course, and there will be NO qualification achieved. It is a test of skill, slalom, man over board simulation and a 360 reverse manoeuvre, penalties for mistakes, skill NOT necessarily speed.
Paxton Lake sailing club is once again hosting a local heat for eligibility into the Eastern Region heat to be held at Island Yacht Club 23rd June.
The National Final will be held in the Southampton Boat show 16th September.
The Local Heat is to be held at Paxton 28th April and will be preceded by 3 training sessions for club members hosted by Dave Rothwell .
These are to be:-
17th March
31st March
14th April
To attend these sessions please contact Dave for confirmation.
This email address is being protected from spambots. You need JavaScript enabled to view it.
The cost has been agreed as £10 per child as a contribution to the fuel cost.
Details

Hits: 3178
Hi All,
To keep the club running we have a number of working parties in the winter months.  Jobs for this years working parties include:
"Dealing" with a number of areas around the lake with cutting back bushes and some trees to make sure the wind still blows
Sorting out the club boat garage
Re-painting of racing marks
Spruce up the changing rooms
Re-paint the club signage
Improve the mooring rope
Sort out the flag pole
Review condition of club boats and instigate repairs
Tidy up the dinghy park
Other jobs are being added all the time and as always there is a lot to do, however the more of us that make some time available to help during the working parties the more we will achieve.
So the dates for your diary are 15th January, 29th January and 19th February.  We will be starting at 10:00.  Please bring any tools you may feel will be useful and some lunch and a flask of your favourite brew is normally essential.  There will be someone in the clubhouse to direct us so don't worry if you cant make 10:00 any time you can spare will be put to good use for the club.
Also on 15th January there will be the AGM at 2:00 pm in the clubhouse.
Details

Hits: 3217
Last year we created a new trophy at Paxton Lakes to encourage and reward members to take part in a number of the Winter Handicaps. For many years there have been some wonderful Winter Handicaps which are great opportunity to race in much larger fleets with some of the best UK sailors.
This years Russell Winter Handicap Trophy will include the following events
Grafham Grand Prix at Grafham Sailing Club
Monday 2nd January 2012
2 handicap races with 4 separate fleets 1st race start 10:55
http://www.grafham.org/?p=3268
Bloody Mary at Queen Mary Sailing Club
7th January 2012
1 long Pursuit race (expect 250+ boats)
Race start time for slowest boat is 12:00pm (make sure you aim to launch early as it can take a while to launch boats) http://www.queenmary.org.uk/bloody-mary.aspx
Steve Nicholson Memorial Race at Northampton Sailing Club
Saturday 28th January 2012
2 handicap races with 4 separate fleets
http://www.northamptonsailingclub.org
Tiger Trophy at Rutland Sailing Club
4th & 5th February 2012
3 back to back handicap races with a slow and fast start for Saturday lasting approx 45 mins each. Then Sunday has 1 long non dis-cardable pursuit race
www.rutlandsc.co.uk
As there are different formats for each of the races, from a 300+ single pursuit to 40-50 boat fleets based on handicap splits, to give an overall result your final position at each event will be taken and factored up based on the largest fleet across all events. This will then give a point score for each event which is comparable across event and fleets. You will also get 2 discards so your best 2 scores will count to your overall score.
Just in case I miss you when I am looking through the results of each event please email This email address is being protected from spambots. You need JavaScript enabled to view it. to let me know which you are going to.
Details

Hits: 3123
A rather windy and gusty Double Handed day at Paxton racing for the Kestrel Cup today. 10 Boats took part with Mike & Sylvane Anderson-Brown 3rd. 2nd Went to Doug & Richard Conway. With first place and the Kestrel Cup going to Gareth & William Russell.
Lots of pictures on the Facebook Page.
---------

Sunday 25th September is the all new Double Handed Trophy.  Racing will be for the Kestrel Cup and is now open to all double handed boats with a minimum of 2 crew.  The day wont be taken that seriously (by most of us) so a great chance to join in with the racing in a friendly environment.  Club boast are available but a first come first served and the first race will start at 11:00 followed by 2 races after lunch.
Details

Hits: 2046
The club's annual Laying Up Supper on 26th November is coming soon, so please book the date in your diary.
The Laying Up Supper is the club's chance to recognise the sailing achievements of the year, while having some good food, entertainment and a chance to catch up away from the club.
Based on your feedback from the club survey, we are finalising the details but we can confirm that the entertainment will include the amazing Levitation Discotheque and a games room and will be held at Little Paxton Village Hall.
Check back here soon for details and how to order your tickets.
Facebook Laying Up Supper event
Please "Like" our facebook page to keep up with all the news about Paxton Lakes Sailing Club