Racing Away from Paxton
Details

Hits: 3654
We arrived at Hunts only towing 1 boat instead of 3 or more. We unloaded the boats and rigged. The Sharp Family had been at Hunts from 8 so we already rigged. Tara, Bobby and Andy were sailing for their school so they were unable to attend. Helen forgot her kicker so we made a last minute rope to act as it. Once we had rigged our boats and got changed, we waited for the briefing. The commodore explained which rules were being used and what the course was. Not long after the briefing, we all launched.
There was some breeze but not much of it. The forecast said there was going to a lot of wind but it moved to the next day. Lasers and Handicap had the first start, then it was Toppers and Picos and finally it was Optimists and Teras. The wind was quite shifty during the day making it harder. As the lasers set off, Helen and I were getting ready in our five minutes. In the last 15 seconds I was drifting down the line unaware of how near I could get to the wind to go towards the mark. Helen decided to follow me down the start ever since Grafham when I had great starts. It was a good thing we were the other end of the line because Monty (a friend from Hunts) ended up capsizing in front of everyone. All the others were stuck behind him trying to go round him. We ended up sailing too far from the mark due to us drifting down the line. Helen was following the swarm of Toppers. I managed to gain on the downwind sections of the course and managed to overtake a few Toppers. Beth and Charlotte were in clear air making them sail faster because they didn't have lot of boats near them after their start. In the end, I came 27th and Helen came 32nd. Beth came 42nd beating a few other boats including some who didn't even finish and Charlotte came 38th.Helen and I were losing on the upwind sections, so after having some lunch we worked out what went wrong and what to improve.
After lunch we all launched again for the 2nd race. With more understanding of the course I sailed up to the start line feeling confident. When the Topper/Pico fleet five minute countdown started, I ended up starting my watch ten seconds out. In the last 20 seconds I completely forgot that this had happen. I was powering up but I stopped, thinking I would be over if I carried on but I could've had a great start if I remembered. After stopping I repowered as the go went, quickly catching the fleet up. After we all went round the windward mark, we were still a huge pack and stayed like that up to the next mark which ended badly. I was on the outside hoping for clear air to get pass this. I was starting to overtake the pack but it wasn't enough to get pass before the mark. Everybody started yelling "Room" as we all piled up to the mark. Harry (a friend from Hunts) and I were on the outside quickly bearing away to give them all room. Even though we had given everyone enough room, they decided not to use it ending in a lot of shouting and crashes. Helen was in the middle of this and another Pico thought he could go through on the inside, but there was no room so he just crashed. I managed to get pass this mess and sail on. Helen and I were beating a lot better in this race keeping our place. In the end I came 22nd, Helen came 28th, Charlotte came 38th and Beth came 41st. We all improved in that race. We came in for the final time waiting for the next race.
They moved the marks around to make the course different. There were different beats and runs. Also there were some nice reaches for asymmetric spinnaker boats. Once they had moved the marks, we all launched again. As they moved the marks, I checked out the new locations and what were going to be hard. In the last 20 seconds of the Topper/Pico start, I was powering up starting to move towards the line which was a few boat lengths away. As the go went I was flying over the line. My only good start of day. Helen was behind me with the Toppers going through line. I ended up getting a really nice beat to the windward mark with very little tacks. I was trying to keep the gap between me, Harry and some others to the rest of the Topper/Pico fleet. I managed to keep up with Harry for a while. On my last lap I was going to a mark as the rest of the Topper fleet were going to another mark further back and were really surprised. In that race I came 2nd Topper and 10th overall. Helen came 24th, Charlotte came 37th and Beth came 46th. I preferred that course to the other one. After a good day of sailing we packed up and went to the prise giving. No Paxton boats got any trophies but still did very well. I came 18th overall, Helen came 28th overall, Charlotte came 42nd and Beth came 43rd out of 45. Everyone did really well. Written by Will Russell
Details

Hits: 3543
We arrived at Ely Sailing Club for the Cambs Youth League at 9 am followed by Gareth, towing Beth's Opi, Charlotte's Tera and William's Topper, Then followed by Paul, towing Tara's Pico. Finally Nick showed up towing Bobby's Laser, Andy's Topper and my Pico. We looked over at the Lake and it was very windy and the gusts were frequent and the water was swirling all over the lake, this was because it was so high up. The wind looked challening but exciting. It was then, a mad rush to rig all the boats and to get changed into our sailing gear. We had to take our boats down to the slipway but had to walk down the long uneven bumpy track. When we eventually got down the slipway you were alreay tired. We got all the boats on the water by using the non- existant slipway which was really hard to launch all the boats. Then we had to sail to the jetty and moored up to it. Then we had a briefing and got ready for the first race to start.
After waiting for absulute ages which left like hours, the race started in three sections. The Opis and Teras then the Toppers and Picos and the RS Fevas and then the Lasers. We were about the start and Tara capsized on the line. we all thought that it was challenging and fun even though we didn't know where the bouys were. It was a good race and there were a few capsizies for most. But Andy managed to capsize 22 times! In that race Bobby came 4th, William came 10th, I came 12th, Tara came 14th and Andy came 17th. but Charotte capsized and did not finsh the race due to the exhaustion and Beth didnt start because she hit her head on the boom before the race started.
The second race started much more smoothly and we found that race alot more eaiser to go around the lake because we knew where the bouys were. But Andy still managed to capsize another 8 times and we all capsized a few times in that race with William doing a nice Death role behind me and Andy retired that race on his 8th capsize . Beth and Charlotte started the race but didn't finish because of the windy conditions. As I went over the finish line, the Race Officers, didnt finish me, so i had to do an extra lap on my own but the hooter went off, I had capsized and had to carried on with the race. At the end of that race I came 6th, Bobby came 7th, Tara came 10th and William came 11th. When we got off the water the wind was increadably strong and the gusts also got stronger and really heavy .
There was a briefing before the third race and the Race Officer adivsed that only the Experienced Saliors went out to do the race. This was because the wind picked up even more and out of 28 boats only 13 boats took part in this race. The Sailors from Paxton, were Bobby, William, Tara and myself. As we were waiting for the start, we could see Andy in the Tera towing the Topper that Charlotte was in as ,they took their boats over to the Jetty. This time, we found the race alot easier because we had four bouys to go around and we knew where they all were. At the end of that race Tara had capsized 8 times and no one else had capsized in that race. Bobby came 7th, I came 8th, William came 9th and Tara came 12th.
Overall the day went really well and Andy capsized 30 times altogether and it was Beths first time sailing there. All the Juniors enjoyed the day and we brought home 3 of the 9 Awards. Beth got Youngest Competitor,Charlotte got First under 12's and I won First Girl. The overall results were Bobby came 5th, I came 8th,William came 10th, Tara came 11th, Andy came 19th, Charlotte came 20th and Beth 23rd. All the juniors did very well even though it was very windy. It was a great day of Sailing. By the end of the day, everyone was really tired and worn out.
By Helen Sharp
More pictures after the link
Details

Hits: 3047
We went to the Cams Youth League at Grafham towing 3 boats(Mine, Aimee's and Helen's). We arrvied before 9AM. We unloaded the boats and rigged them.

It was quite breezy before the first race and it looked exciting and worrying. Once we signed on, rigged and got changed, we went to the briefing. When I found out the Laser Pico started on the same start as me, I was annoyed but got over it. We got ready to launch for the first race and heaed of to the start line.

I understood how the starts worked so I told the other Paxton members what to do and when it really started. I helped Aimee as she is new to racing and she wasn't sure how it worked. Once she started, our 5 Minute went not long afterwards. I was great. I had lined up on the line and in the last ten seconds, sheeted on. I was the first off the line and stayed there for a while.


I came 10th in that race in the end.

In the second race, my start was ok but I drifted past the line but made up for it. I went to the Windward Mark very well. I sailed where the wind was stronger which shot me ahead of the other Toppers

In that race I came 1st Topper which made so happy and I came 6th in that race. The 2nd race put me in a good mood so I had a good start and sailed well and in that race I came 2nd Topper and 9th. Overall in that day, I came 8th overall out of 34 boats and 1st Paxton boat. 2nd Paxton was Tara Butterfield in 15th overall and 3rd was Helen Sharp in 19th.

Charlotte Sharp and Aimee Russell raced for the first time at Grafham Water Sailing Club and did really well for young sailors. Charlotte came 33rd and Aimee came 34th but they put all the effort they had into the day of racing. All the Paxton Lakes Sailing Club members did really well at Grafham.

There are a lot more pictures here
Cambs Youth League Grafham Pictures
Details

Hits: 3198
Now in its third year it would be great to see more of our members competing for the Russell Winter Handicap Trophy. For many years there have been some wonderful Winter Handicaps which are great opportunity to race in much larger fleets with some of the best UK sailors. The Russell Trophy is all about encouraging and rewarding our members at Paxton Lakes to take part in these events.
This years Russell Winter Handicap Trophy will include the following events:
Grafham Grand Prix at Grafham Sailing Club
Sunday 30
th
December 2012
2 handicap races with 4 separate fleets 1
st
race start 11:00
http://www.grafham.org/?p=5514
Bloody Mary (40th Anniversary)
Saturday 12
th
January 2013
1 long Pursuit race (expect at least 250 other boats) Race start time for slowest boat is 12:00pm (make sure you aim to launch early as it can take a while to launch boats)
http://www.queenmary.org.uk/bloody-mary.aspx
Steve Nicholson Memorial Race at Northampton Sailing Club
28
th
January 2013
2 handicap races with 3 separate fleets 1
st
Race start 11:00 for single handed and double handed Assymetrics start in the afternoon
http://www.northamptonsailingclub.org/index.asp?selection=Calendar&cy=2013
Tiger Trophy at Rutland Sailing Club
2
nd
& 3
rd
February 2013
3 back to back handicap races with a slow and fast start for Saturday lasting approx 45 mins each. Then Sunday has 1 long non dis-cardable pursuit race
www.rutlandsc.co.uk
Some events have a restriction on the number of boats allowed and require you to pre-enter. Please make sure you do this early.
As there are different formats for each of the races, from a 300+ single pursuit to 40-50 boat fleets based on handicap splits, to give an overall result your final position at each event will be taken and factored up based on the largest fleet across all events. This will then give a point score for each event which is comparable across event and fleets. You will also get 2 discards so your best 2 scores will count to your overall score. A change for this year is that each sailor that takes part will score points for themselves so if you change crews or helms, change boats you individual scores will be the ones that count together. If there are any ties then your best discard will be used to break a tie.
Just in case I miss you when I am looking through the results of each event please email
This email address is being protected from spambots. You need JavaScript enabled to view it.
to let me know which you are going to. This year I should be at all events so if you are unsure about anything or would like to find out more about each specific event just ask.
Details

Hits: 3562
Hornet Final Fling – Carsington SC 27th – 28th October 2012
Well done to our Commodore, Paul Carrington and Rear Commodore, Gareth Russell for a hard earnt second place at the final Hornet Open Meeting of the 2012 season held at Carsington Sailing Club. Full report and pictures after the link..
Details

Hits: 3053
Four boats from Paxton Lakes Sailing Club made the short journey to Grafham Water SC on Saturday 9th June for the Beds and Cambs regatta. They arrived to find a very small turnout of only 15 boats and strong winds. We were informed during the briefing that the wind on the course was around 20 knots and gusting 27, but all boats made the brave (maybe foolish decision) to launch for the first race. It was only once we launched and sailed out to the start line that we realised quite how strong the wind was. However before the start every sailor had a huge smile on their face as they sailed around the start area waiting for the race committee to get us underway. For many of the Paxton boats (all except Gareth and Toby really) these were the strongest conditions we had ever raced in.

All was going well for the Paxton boats in the first race with Gareth Russell and Toby Barsley-Dale leading the fast fleet by a long way in their Hornet. Matt Bowden (Laser Radial) and Pat Overs (Solo) were really close as they rounded the 2nd mark after an exhilarating reach from the windward mark. Joe and Helen Sharp weren't far behind in the Bosun. From there the first race went slightly downhill for a few of the Paxton sailors. The run proved very unstable for Matt who just about managed to reach the leeward mark and gybe unharmed but then decided to be the first Paxton sailor to try out the water with 2 death rolls within the space of about 2 minutes. This coupled with the cold forced Matt to retire from the race. Matt's retirement was closely followed by Gareth and Toby who were towed in by a Safety Boat after the rudder fittings failed just after completing their second lap. Unfortunately this put an end to their day with the Jib getting torn on the tow in. The 1st race wasn't all doom and gloom though for Paxton sailors as Pat put in a very solid 4th and Joe a fantastic 3rd.

The afternoon saw 2 back to back races, and to the dismay of the sailors the wind had not decreased as forecast if anything it had increased. This didn't put off the hardy Paxton sailors so Matt, Pat and Joe (with his new helm Gareth) launched and sailed off to the start again. All Paxton boats completed the first lap with Pat and Gareth and Joe sailing off up the beat followed by Matt. The reach and run then saw Matt overtake Gareth and Pat still sailed in the distance. According to Gareth the look on Matts face down the run was one of pure fear! Pat then decided he would test the water and turtled his solo ¾ of the way down the run after what can only be described as a dodgy gybe! This led to Pat having to retire from the race but both Matt finished (4th) and Gareth and Joe (3rd). Matt then followed Pat into shore as he was unable to physically start the last race but Joe and Gareth did and recorded another 3rd place.

Overall all the sailors had a great day (if at times very scary). Overall Joe came a fantastic 3rd in the slow fleet followed my Matt 4th and Pat 5th. Grafham SC swept up all the firsts and seconds in both the fast and slow fleet. Matt was the first junior overall.

A huge thanks has to go to the Race Committee and Safety boat crews who did a fantastic job in what were awful conditions.
Details

Hits: 2721
Well done to our Solo sailors Andy Anderson and Pat Overs who travelled to Hunts this weekend for their Solo Open meeting. Pat came 4th overall counting two 3rd places and Andy came 6th. Meanwhile Toby Barsley-Dale and Gareth Russell travelled to Brightlingsea for the first Hornet Open meeting of the year. They scored a 2nd and race win on Saturday and managed to get three 1st places on Sunday despite many lead changes and very tight racing to win the Open meeting. Well done to our members representing the club further afield.
Details

Hits: 3145
Well done to Toby and Gareth, sailing their Hornet for coming sixth at the Hoo Freezer in very light and difficult conditions.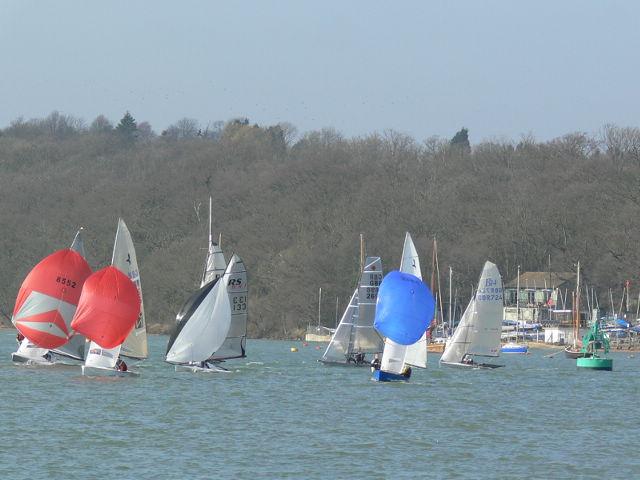 Despite the poor wind forecast there was still a good turnout for the Hoo Freezer. Amongst the fleet for the practice race on Saturday were two Hornets. 2132 sailed by Strangler crewed for this event by John Shelton and newcomers to the fleet for 2012 Toby Barsley-Dale and Gareth Russell sailing 2176.
Having passed Toby and Gareth early on, Strangler and John went on to establish a sizeable lead. Despite their best efforts to close the gap, Toby and Gareth closed the gap never really managed to get back on terms to challenge in the light conditions.
Perhaps, given the even lighter forecast for Sunday, finding an all you can eat Chinese restaurant for the Saturday evening may have been a mistake. But a good night was had in company with some of the Osprey fleet.
Sunday as feared was almost windless, with just the occasional puffs filtering through. Despite this and the threat of the tide starting to run halfway through the race, the Race Officer bravely set a course and sent the fleet afloat. The Hornet ranks were reinforced by Steve Cooke and Alistair McHardy in 2080. This welcome addition also meant the class could field an entry in the class team trophy.
With just enough breeze to make over the tide the fleets were dispatched with the fast fleet, including the Hornets, starting second. Toby and Gareth were caught and pushed over the line by a very late and cheeky port tack entry from another boat which took them both over and, with the round the ends rule in force and having to return against the tide, the leaders of the fleet (including Strangler and John) were a long way ahead by the time Toby and Gareth managed to restart.
With only a few boats round the windward mark, the breeze died (for the first of many occasions during the day) and a large raft formed allowing both Steve/Alistair and Toby/Gareth to sneak through on the mark, passing many of the fast fleet in the process and set off (slowly) in pursuit of the leaders.
Over the following laps, a complex game of snakes and ladders unfolded always slightly favouring the boats behind as you could see people in front find the holes and then take avoiding action. Slowly but surely Toby and Gareth caught Strangler and John, eventually finding a passing lane on the last beat. Steve and Alistair were also quietly coming through the fleet and passing many faster boats on the water.
With the final results calculated we were delighted to find all three boats were in the top 10. Steve and Alistair finishing 9th, Strangler and John 8th and Toby and Gareth 6th. This was enough to edge out the B14's for the class team trophy... maybe they were two focused on the chips and tea!